...the Lord will call me home and when he does, I will find perfect love. Until that day, I will continue on the journey He has set me on. As much as I love my husband and children and as much as I would like to think of that love as perfect... It is not. There is only one capable of delivering that type of love...Our Heavenly Father.
I began blogging when my sweet baby Eli was alive and well in my belly. When we found out he had Potter's Syndrome our world changed. I blogged to keep those that were praying for us informed. Somewhere along the way this became my journal...a place for me to come and spill my heart. I prayed if my words or experience could help anyone else walking this difficult path, that God would allow that. I prayed that in journaling what was on my heart, God would help those words flow in a manner that would uplift Him. Then after Eli died, this became my healing place. I met some wonderful, amazing women who also laid their hearts out in the form of a blog. I put my thoughts down and analyzed them. This has been a very cathardic place for me.
This journey that I am on is ever changing. As much as I fought healing from the death of my child...it has crept in. I didn't want it too. I was afraid that if I healed, I would forget Eli. That is not the case. I will never forget Eli and it has taken me a long time to come to terms with the fact that everyday brings more healing. I'll be honest with you. This morning was pretty tough for me but not all mornings are like that anymore. I love my son with the same intensity today that I did eighteen months ago. That will not ever change. I miss my son more and more everyday. That will not ever change. But, God has brought happiness into my heart again and the total numbness that I once experienced has lessened. While Amelia will never replace Eli, God knew I needed her to bring some of the feeling back into my broken heart. So despite my best efforts, I am healing.
I have been thinking for a few months now about updating my blog and giving it a new look. I want to put the focus of my blog on the journey...on daily life now that our path has changed. I even surfed around and tried to figure out what I wanted it to look like and became completely overwhelmed. Then a few weeks back my friend
Mattie
held an online auction. One of the items in the auction up for bid was a custom blog redesign. I bid on it not thinking that I would ever get it but I did. I was excited about having the winning bid but still did not know what I wanted.
Becky From Adopt African Digital Designs
contacted me and we emailed back and forth about things that I liked and wanted. My main wish really was that she have fun with my custom blog and I also told her that I wanted something cheerful. Tonight Becky finished putting my blog together. I LOVE IT! It is so much more than I ever imagined and she got it done way faster than I expected. She did an amazing job. Thank you so much Becky! You Rock!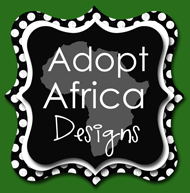 So now my sweet friends...The journey continues...
Much love,